We invite you to indulge your senses with our unique spa offerings, personalized curated activities, outdoor adventures, and access to exclusive winery experiences, including Poetry Inn's very own Cliff Lede Vineyards.
EXPLORE OUR UNIQUELY NAPA EXPERIENCES


Indulge in a luxurious spa experience above the vineyards of Napa Valley. Restore peace to your body and mind while soaking in the serene setting of nature.
A relaxing visit to our serene spa suite is the perfect way to begin or end your day in wine country. Our massage therapists specialize in a broad range of soothing treatments, which can also be enjoyed on your private terrace overlooking Napa Valley.
Guests may schedule treatments by contacting one of our Ambassadors by calling (707) 944-0646 or by sending an email request.
Spa treatments are reserved exclusively for guests of Poetry Inn, and should be scheduled in advance of your stay. We are stringently following all regulations and protocols for the health and well-being of our guests and therapists.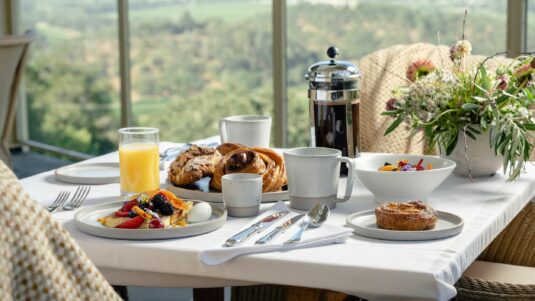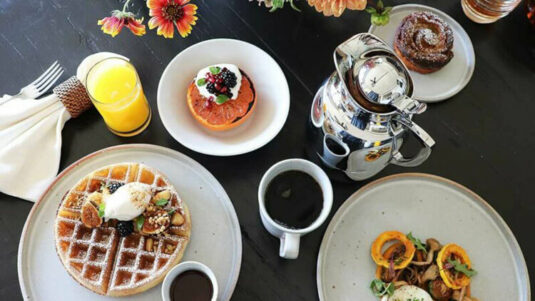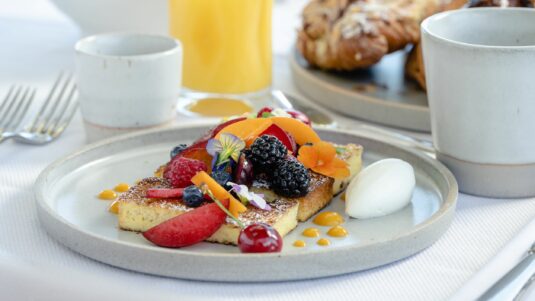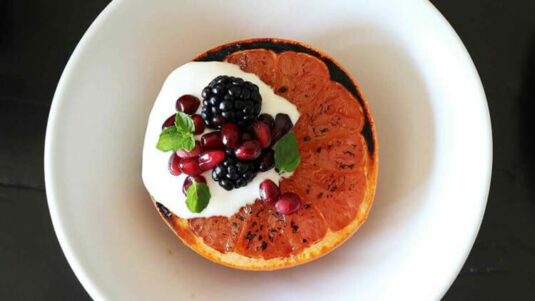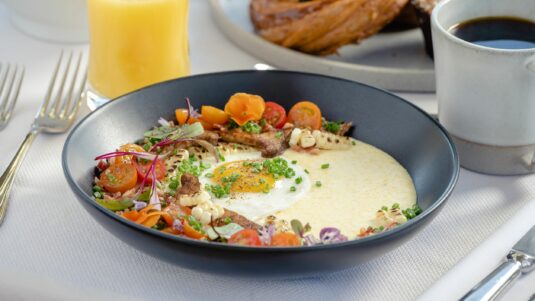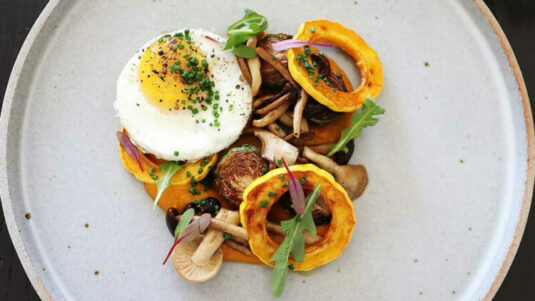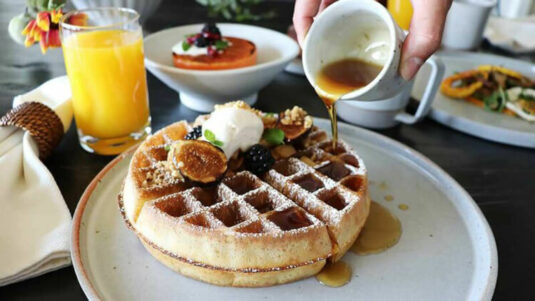 "Full many a glorious morning have I seen..."
Your sumptuous three-course breakfast begins with coffee, tea, freshly squeezed juices, and freshly-baked pastries from Bouchon Bakery. Your second course will be a light offering, followed by your choice of a sweet or savory entrée created with seasonal produce and herbs from our garden and local farms.
If you are interested in private dining, our chef is available to create an exclusive food and wine pairing experience. Admire the stunning view on your private terrace and savor the beautiful memories.
MEET OUR EXECUTIVE CHEF
MEET POETRY INN'S
EXECUTIVE CHEF LYNN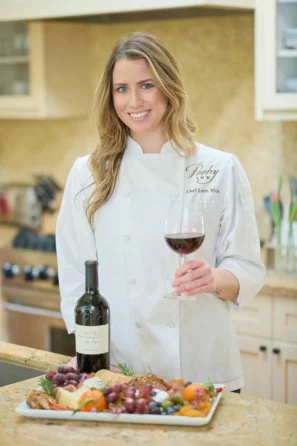 MEET POETRY INN'S
EXECUTIVE CHEF LYNN VITA
A native of San Diego, California, Lynn had always had a strong passion for cooking and creating dishes based on the wide range of ingredients that are available in California year-round. In 2011, she relocated to the Napa Valley to study Culinary Arts at the Napa Valley Culinary School. Directly following graduation, she began working in the culinary department at Simi Winery in Healdsburg where she put her knowledge of menu planning to work, pairing local wines with regionally specific dishes that drew in tourists and locals alike. In 2012, Lynn accepted a position as sous chef at Poetry Inn, a property she had always admired for its commitment to perfection and unparalleled luxury experiences. Demonstrating excellent talent and ability, Lynn was promoted to executive chef soon after joining the team.
In 2019, searching to expand her culinary resume once again, Lynn departed Poetry Inn to serve as a private chef for a high-profile family in Marin County. While she missed the hospitality world and ability to interact with an array of guests and their respective palates, this experience was invaluable for Lynn in terms of adapting and honing her culinary talents to suit the needs of a discerning client base that often included celebrities and leaders in business and politics. Having always kept Poetry Inn close to her heart, Lynn was lured back to the property in January of 2021 with the opportunity to expand the hotel's culinary offerings in line with the forthcoming new aesthetic by Erin Martin Design. "Poetry Inn is different from any other hotel property in the Napa Valley," says Lynn. "Its intimate nature allows me to connect meaningfully with our guests and build relationships. I look forward to continuing to elevate and expand the culinary offerings at Poetry Inn."


With our personalized concierge services we can make your stay in Napa Valley unforgettable with a curated itinerary filled with exclusive activities for a variety of interests.
View some of our most sought after activities below or contact one of our Ambassadors by calling (707) 944-0646 or send a request below.
Complete your Napa Valley experience with a private or group hot air balloon ride. Soar above the valley for a birds-eye view of the vineyards, topography, and great estates that make Napa Valley a magical place to visit.
Duration: Varies
Starting Rates: $325/person
Poetry Inn's private trail winds from just above the Poetry Inn nearly to the ridgeline, 500 feet above the Inn, where it connects to the public
Rector Reservoir Wildlife Area
trail. A brief hike north leads to the overlook of Rector Reservoir while passing beautiful wildflowers and spotting wildlife along the way.
Duration: Varies
Starting Rates: Complimentary
Exclusive Wine Experiences
In addition to our winery, Cliff Lede Vineyards, the
Ambassadors
at Poetry Inn have spent years building relationships with top wine estates throughout the valley. Use this access and our concierge services to craft an itinerary that will be the envy of the most discerning collectors.
Duration: Varies
Starting Rates: Varies


"Minimal intervention allows the wines to demonstrate a sense of place."
CLIFF LEDE WINEMAKING PHILOSOPHY
Cliff Lede Vineyards is a family owned and operated winery located in the famed Stags Leap District.
Focusing on Cabernet Sauvignon, "Poetry" is the highest expression of this unique property. For over 20 years, Cliff Lede Vineyards has prioritized crafting wines of extraordinary quality with authenticity and sustainability in mind. The winery is the ultimate vision of founder Cliff Lede, a spirited wine advocate with a passion for classically styled wines.
THE POETRY EXPERIENCE AT
CLIFF LEDE VINEYARDS
Guests of Poetry Inn are invited to an exclusive tour and tasting at Cliff Lede Vineyards. This private experience begins with a walk through the esteemed Stags Leap District vineyards and features a curated selection of our finest wines, including our flagship Cabernet Sauvignon, "Poetry," and an insider's view of the modern winemaking facility, accompanied by an artisan cheese plate from our culinary team at Poetry Inn. To add this experience to your stay, contact your Poetry Inn ambassador.
This experience is complimentary for Poetry Inn guests with prior arrangement.